Swim With Australian Sea Lions
For the ultimate bucket-list eco-experiential cruising experience, how does a morning swim with a pod of gregarious sea lions sound?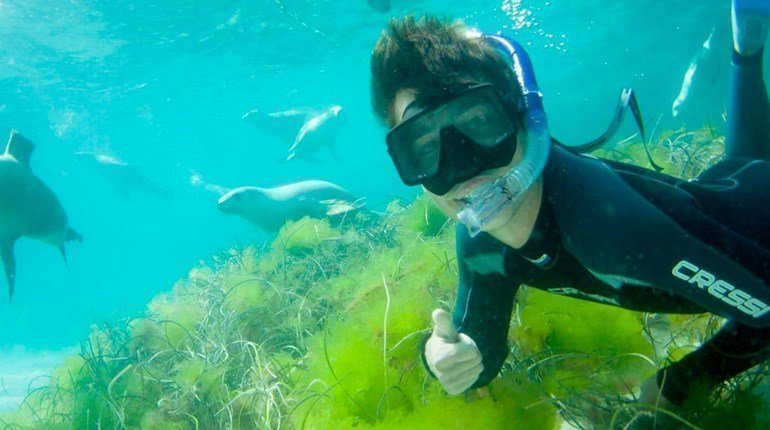 Departure Details
Adventure Bay Charters Office, 2 South Quay Boulevard, Port Lincoln Marina
07:30

Boards

08:00

Departs

13:30

Returns
Cruise Inclusions
Half day sealion swim tour
Swim the Sea Lions at 4 locations
Tea/coffee and refreshments
Snorkelling equipment included
Licensed bar on board
Swim With Australian Sea Lions
If swimming with sea lions isn't already on your bucket list, by the end of this we would love for you to want to pen it in there! Witness the wild Australian sea lions in their natural habitat. The experience of being in such close quarters with an untamed creature in its element is as good as dreaming with your eyes wide open.

Journey to the pristine turquoise waters of the Seal Cove located at Port Lincoln on this half-day tour for your life-enhancing once-in-a-lifetime wildlife experience! An 8hr drive from Adelaide to watch these cute little animals is totally worth it. The gregarious sea lions and pups heartily welcome you in their midst darting towards the boat with unmistakable glee. They make you an offer you can't refuse, to join them in their homes, absolutely heartwarming, isn't it? Let's dive right in!

The unmistakable ears that set it apart from seals and eyes large enough to melt the coldest of hearts, these puppies of the sea are awfully photogenic - no bad angles, at all! Swim and snorkel with a colony of curious sea lions, while they sometimes poke their nose in your face, leaning in for an eskimo kiss. Spend an hour and a half watching these gentle underwater mammals and their pups showing off with back-flips, somersaults and graceful swirls. This aquatic playground is sure to make everyone (sea lions included) feel, quite ironically, on top of the world!

Since this tour is interactive, the trained guides on board answer all your doubts, age no bar. The friendly crew also take photographs throughout the day. An underwater camera is also available to capture memories of your spirited aquatic friends and you!

The Australian sea lions are endangered species and responsible animal tourism is the need of the hour. This adventurous escapade just off Adelaide strives for ethical travel and fosters ecological sustainability. Swimming with sea lions is humbling and profound to say the least, reiterating the conviction of animal rights activists globally. That being said, this eco-experiential cruise and swimming with sea lions experience is a solace for ambassadors of responsible tourism.

So, is it on your bucket list yet?